Fragrances
sale
Eros Perfume
From the artist, Maria of Sea Grape: "When I was a child I spent long lazy afternoons lounging in the woods. The sun warmed pine and cedar sap while I lay on the warm moss and greenery. This blend evokes images of sun-warmed wood and the serene surroundings of the forest."

Aromatherapy qualities:
centering, calmingEssential Oils, made fresh and blended using only high-quality natural ingredients.

The base oil is silky smooth grapeseed oil that is quickly absorbed into the skin, without leaving an oily residue.
Sea Grape perfumes are packaged in clear 1/3oz glass roll-on bottles with herbs and botanicals inside to continually infuse the perfume oil with the healing qualities of the herbs.
Ingredients: grape seed oil, organic herbs, essential oil blend and love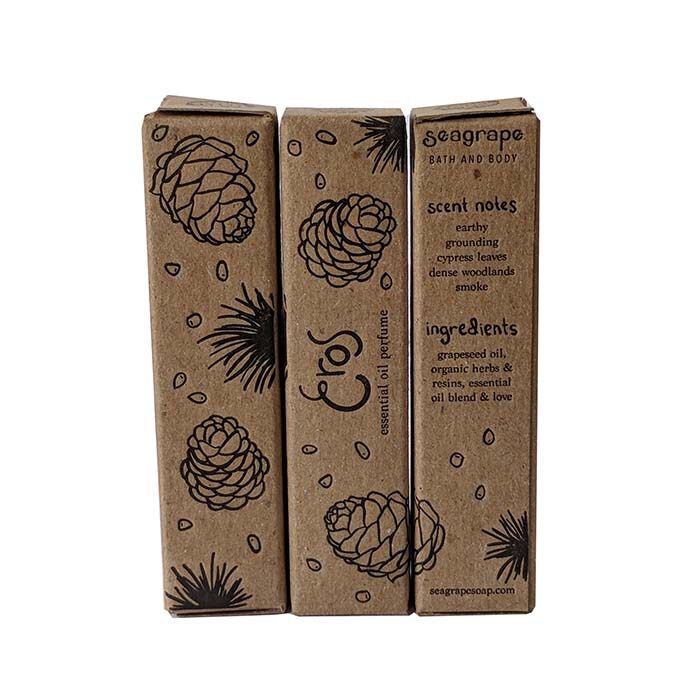 Additional Info
Seagrape bath + body is a luxurious line of boutique quality cold processed soaps, perfumes, massage oils, aftershaves, balms and serums, specializing in all natural handmade aphrodisiac blends and romance products. Seagrape likes to focus on creating products that allow individuals to surround themselves with things that make them feel happy, sensual and centered.

Inspired by the beauty found in nature, all of their products are made with oils, butters and botanicals derived from the earth. They never use synthetic dyes, preservatives, sulfates or chemicals in anything they make.