Women's Dresses | Modern and Vintage Inspired Clothing
sale
Sunflower Checked Linen Dress
Sunflower Check linen dress with a scoop neckline, in a midi length, with short sleeves, fully functioning Corozo nut buttons, pockets and an adjustable waist tie. The back of dress has two small belt loops and a removable tie that can give the option of a fitted waist.
This is a light/medium weight linen.
Designed and ethically made in California with fine European 100% flax linen.
Pyne & Smith dresses are designed to be comfortable, functional, and loose fitting - Linen does not stretch.
Pre-washed. Hand or machine wash on gentle in warm water. Dry by laying flat, or tumble dry on low heat. Do not bleach. Do not use oxygenated detergents that contain hydrogen peroxide such as Oxyclean or Vanish on the buttons. Do not soak or steam buttons.
We recommend embracing the beautiful, crumply look that makes linen so unique! If you need to iron, it helps to iron the garment while it is still moist. Do not iron to a crease.
Dress lengths: XS - 41"/ S - 41.5"/ M - 42"/ L - 42.5"/ XL - 43"/ XXL - 43.5" (See size guide image for all measurements.)
Model is wearing a size XS. She is 5'7". Her measurements are: Bust 33", waist 25", hips 36", shoulder width 14.5".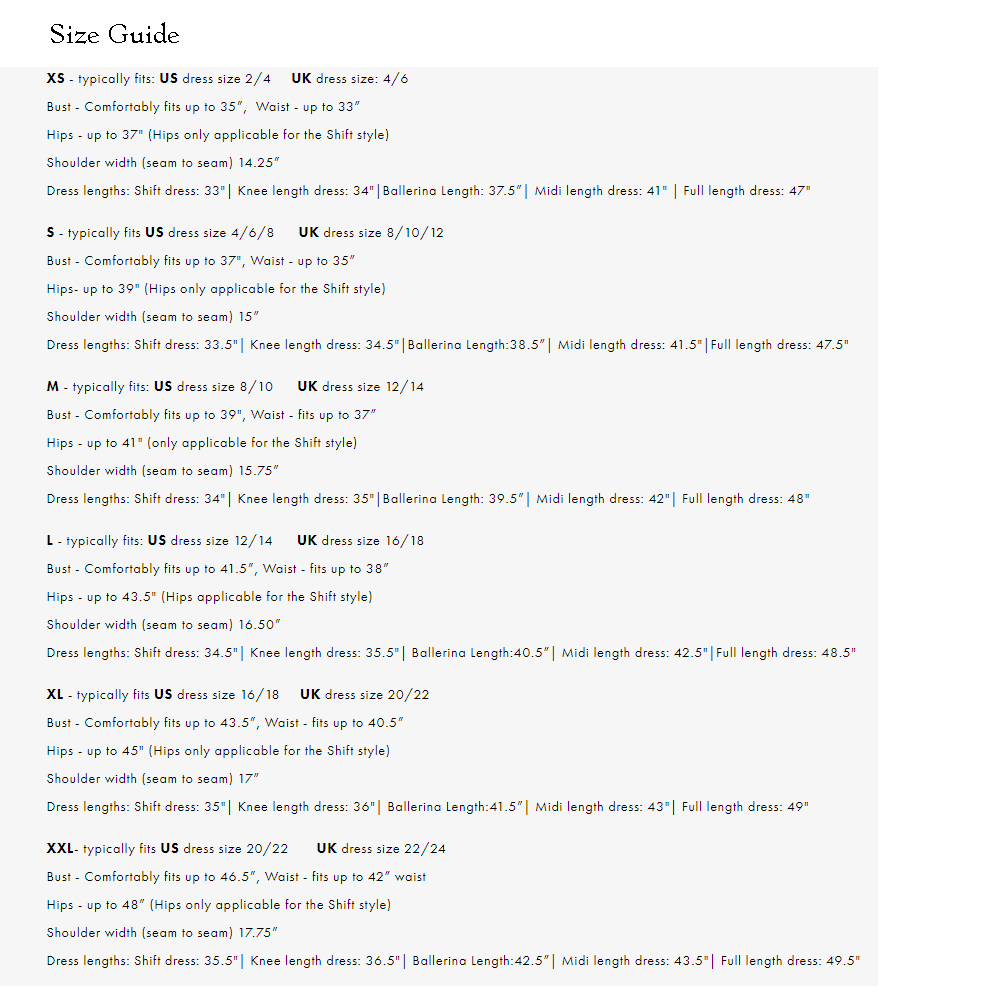 Additional Info
Joanna McCartney is the founder and designer of Pyne & Smith Clothier. Growing up in a small traditional village in the English countryside, her grandmother and mother taught her to sew. Pyne & Smith Clothiers is named after Joanna's Granny - Mary Elizabeth Smith, and her Great Granny Pyne, on Joanna's maternal side.
Joanna's love of travel led her to California, where she fell in love with a local surfer and planted roots in a small beach town. She started dressmaking after a very hot summer & an unsuccessful search for cool, comfortable dresses that were beautiful, functional and comfortable. Tired of dresses that weren't built for an every day life, or an average woman's body, Joanna began making the dresses herself, and selling them at a market in Los Angeles, and so began Pyne & Smith Clothier. Pyne & Smith dresses are now made at a sewing production studio in Los Angles, by experienced and skilled seamstresses.
When she's not working in the studio, Joanna spends her time enjoying some good books, drawing or cooking, and spending time outdoors! She travels yearly back and forth between her family home in England and California.
———
Pyne & Smith dresses are made from 100% European flax linen, which is a natural fiber fabric that will not only last, but soften and improve with time. Breathable, durable, low maintenance, and hypo-allergenic, this incredibly comfortable fabric is also environmentally friendly - it requires very little water to grow. Linen is also biodegradable.
The colors and patterns are unique linens, exclusive to Pyne & Smith - they custom design all of their linen fabrics.
The journey for a Pyne & Smith dress begins in Europe, in a flax field. The flax plants are harvested and prepared for weaving by going through a laborious, time consuming process of drying, threshing and retting. When the finished material is ready to be spun into yarn, it resembles bunches of long, blond hair. Hence the term "flaxen" for light haired folk.
The flax material is then spun into thread and dyed to the colors that Pyne & Smith have chosen and woven into the finished 100% linen.
The fabric in then flown to their cutter in Southern California, where the dresses are cut and bundled ready for sewing (they gather the waste from these cuttings & send them to be recycled into car & airplane seat coverings.)
The cut pieces are then sewn and finished by our sewing contractor in Los Angeles. "We spent two years looking for the most experienced and ethical production facilities to make sure our dresses were being made by people that pay and treat their employees a fair, living wage in a safe and friendly working environment. While there are many garment manufacturing places around the world that offer MUCH cheaper pricing, very few have the quality and compassion that we demand for our dresses. Top quality sewing, attention to detail, and most importantly, the employees are happy and well compensated!"