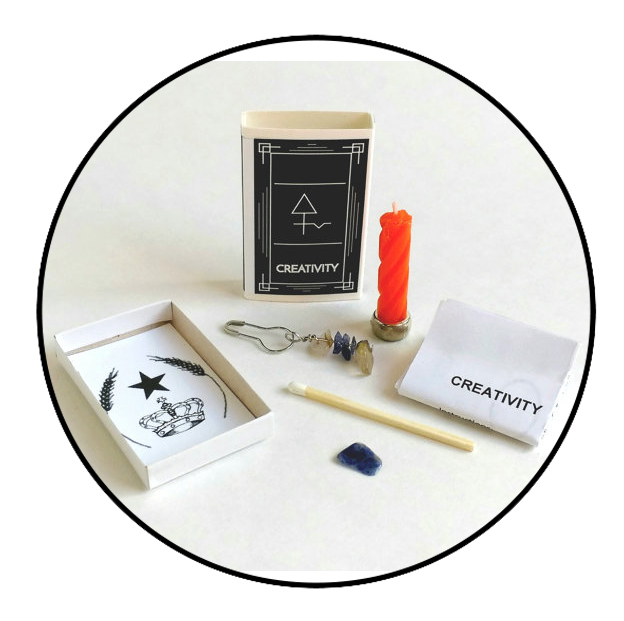 Candles Home Decor |Soy Wax Candles Handmade Housewares
Creativity Ritual kit
CREATIVITY: Unblock inspiration and explore new channels of creative growth. This ritual can be performed at any time, but to increase energy for starting a new creative project, it is best performed on the night of a new moon. If instead you wish to close one chapter of your life and find energy for the next, it is best performed just prior to the new moon.
Contents in matchbox (2.25" x 1.5"):
Iolite:  Connects to the muse, stimulating psychic awareness and activating the visionary, creative mind for self-expression  Strengthens motivation for follow-through on projects, promoting good organization and focus  Helps recover balance after times of chaos and disorientation, providing confidence and endurance in uncomfortable periods of change
Rutilated quartz:  Jumpstarts the flow of energy  Uncovers the causes of mental and emotional hang-ups that block creativity and needed life changes  Controls fears and aids in mental focus for decision-making
Lapis Lazuli:  Activates the intellect for enhanced problem solving and new ideas, especially in the verbal realm  Encourages truth in communication, helping us articulate a successful path through fast change  Persuades others to believe in our creative ideas  A stone long associated with inspiration, as the ground pigment was used by painters throughout history
Additional Symbolism  Orange candles are said to bring about quick change, helping jumpstart creative energy and new projects.  In the Tarot, The Empress is the embodiment of creative energy.  In alchemy, the element sulfur is symbolic of aspiring to a higher state of awareness.
Ritual Kits provide objects and exercises to perform thematic rituals. Each kit contains an illustration from the Tarot, an intention-setting exercise and/or chart, alchemical symbol illustrations, candle(s), and a gemstone amulet and/or loose stones placed inside a matchbox. All content is specific to the particular kit's symbolism (in color, meaning, etc.).
----
CAUTION: This Ritual Kit is not a toy. It is a tool for personal enrichment or for entertainment purposes. Risk of fire - do not leave unattended when in use. Choking hazard: Contains small pieces.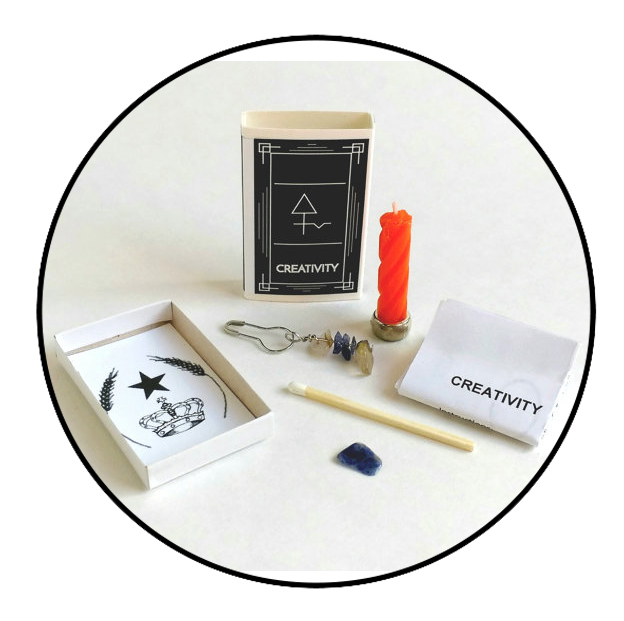 Additional Info
The Dark Exact offers artfully designed, hand-crafted products for the home and body with a metaphysical flair. All products come with suggestions for how they may also be used to perform personal rituals for clients seeking deeper self-awareness, or to simply feel more present in daily life. At The Dark Exact, we believe that crafting a beautiful home and taking time to adorn the body leads to a more peaceful, grounded existence. We also believe in the power of ritual to set intention and change lives from within.