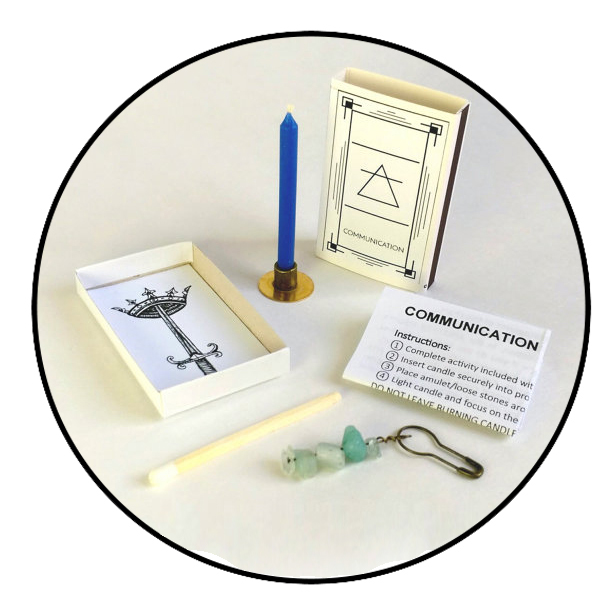 Candles Home Decor |Soy Wax Candles Handmade Housewares
Communication Ritual Kit
COMMUNICATION: Improve your communication with others. Clarify your thoughts and feelings and challenge your assumptions about how others think and feel.
Contents in matchbox (2.25" x 1.5"):
Amazonite:  A soothing stone to pave the way for effective communication by tempering aggression and promoting rational thinking  Provides harmony and balance  Inspires clarity of personal truths and confidence to express those beliefs without fear of judgment  A good stone for setting clear boundaries.
Aquamarine:  Encourages effective communication skills  A stone of courage, stamina, and tolerance  Gives the strength and self-knowledge needed to handle responsibilities  Calms anxiety and promotes trust and letting go
Additional Symbolism  Blue candles are considered helpful for calm communication.  In tarot, the Ace of Swords indicates mental clarity, insight, and understanding. It is a call to action for seeking the truth.  The element of air is connected to the mental realm.
Ritual Kits provide objects and exercises to perform thematic rituals. Each kit contains an illustration from the Tarot, an intention-setting exercise and/or chart, alchemical symbol illustrations, candle(s), and a gemstone amulet and/or loose stones placed inside a matchbox. All content is specific to the particular kit's symbolism (in color, meaning, etc.).
----
CAUTION: This Ritual Kit is not a toy. It is a tool for personal enrichment or for entertainment purposes. Risk of fire - do not leave unattended when in use. Choking hazard: Contains small pieces.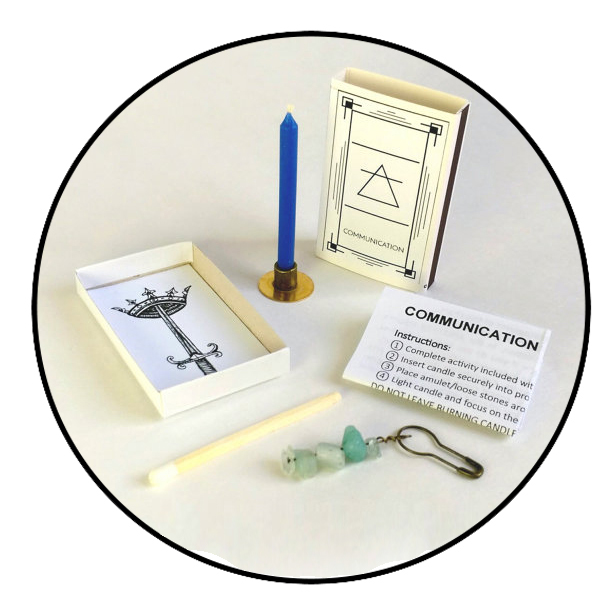 Additional Info
The Dark Exact offers artfully designed, hand-crafted products for the home and body with a metaphysical flair. All products come with suggestions for how they may also be used to perform personal rituals for clients seeking deeper self-awareness, or to simply feel more present in daily life. At The Dark Exact, we believe that crafting a beautiful home and taking time to adorn the body leads to a more peaceful, grounded existence. We also believe in the power of ritual to set intention and change lives from within.